"I'm ready for you! I heard what they said! Hope you beat them to it!"
— Big Mickey, High Tide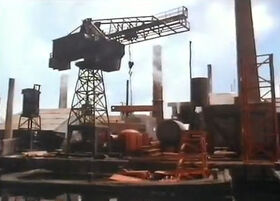 Big Mickey
Big Mickey is the yard's biggest crane. He was stationed at the Steel Company dock, which was later used by the navy in the episode Munitions.
Bio
Big Mickey first speaks in the episode Munitions, he loads the naval tramper Kraka-Toa with explosives. Later, a fire causes his dock to collapse and he sinks (in the TV version, it is said he is saved by landing in shallow water). Later, in the episode High Tide, he loaded steel for the Z-Stacks and the Star Fleet.
Persona
Big Mickey is known to be supportive towards the Star Fleet, as he roots for them in their competition against the Z-Stacks for the steel contract and according to Zorran, he is clearly his own boss as he noted that: "Nobody tells Big Mickey what to do!"
Voice Actors
Appearances
Trivia
Big Mickey was also shifted to Lucky's Yard.
His model was recycled and used in Thomas & Friends, beginning in the third season episode "Diesel Does It Again". Out of all the Tugs characters, he has the longest post-Tugs lifespan, along with the S.S. Vienna.
After TUGS ended, Big Mickey is believed to have been refurbished and being slightly changed throughout the model seasons of Thomas.
It is currently unknown where Big Mickey's model is now due to the fact that Thomas and Friends changed its format from their model version into a CGI version.
In Thomas and Friends, Big Mickey's model change a bit:

He was repainted a warmer shade of grey.
His megaphone was removed.
Since the CGI switch, he appears to be bigger and taller.
Gallery
Ad blocker interference detected!
Wikia is a free-to-use site that makes money from advertising. We have a modified experience for viewers using ad blockers

Wikia is not accessible if you've made further modifications. Remove the custom ad blocker rule(s) and the page will load as expected.