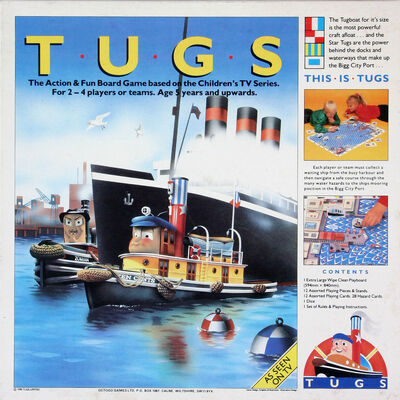 The Tugs
board game
is a rare board game released in 1990 by Octogo Games and is based on the Tugs universe, set in
Bigg City Port
.
Characters
Trivia/Goofs
Not all the Star and Zero tugs appear on the board game; the characters that didn't appear in the game are Big Mac, O.J., Hercules and Zak.
The board game says that Johnny Cuba is from Cuba when he speaks with an Australian accent in the TV Series. This mistake must have led from his surname, Cuba.
S.S. Vienna is the only ocean liner from TUGS to not appear in the board game.
The Duchess' nationality was British, but in a rare picture from Sunshine, she has a American flag on her front mast.
It says that Zebedee is owned by Captain Star, but as Zebedee is a Z-Stack, he should be owned by Captain Zero, this is probably due to the ending of High Winds, where Ten Cents offered him a place within the Star Fleet.
This is one piece of merchandise where Captain Star is spelt 'Starr', as in "Ringo Starr".
Ten Cents is structured as "10 Cents".
Gallery