Captain Zero
Talk

0
214pages on
this wiki
"What's devious is what's necessary to make an honest living in these days of corruption and bad business ethics!""
— Captain Zero, Sunshine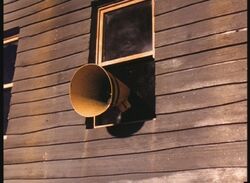 Captain Zero
Affiliation: Zero Fleet
Type: Human
Captain Zero is the devious and scheming owner of the Z-Stacks. He is known to have criminal connections and was originally affiliated with Johnny Cuba before something happened between the two. He only appears in a small number of episodes, and is known to be quite bad tempered.
He has worked together with Captain Star once in the episode Pirate, which shows he is capable of working with the Star Tugs.
If there were a further 13 episodes, more of his personality would probably have been exposed, although it is suspected he is an evil character.
Usually during 'briefing' or other moments when speaking to his tugs, his megaphone sways violently as he speaks. He has a yellow and black striped megaphone, that can be seen out of the run-down, wooden dock-building that he works in (The Zero Dock). He cares not for his tugs, but forces them into working hard and reliably. His favourite is assumed Zorran, as he is #1, follows his orders precisely, and is the smartest and most devious of the Z-Stacks. This is why Zorran is usually in charge of the Z-Stacks and their operations during certain tasks, such as is Munitions, where a delivery of explosives were to be towed across the port to Big Mickey.
He has five members in his fleet. They are as follows: Zorran (1), Zebedee (2), Zak (3), Zug (4) and Zip (5)
Appearances
Television
Books
Trivia
Behind the Scenes
He speaks with a Orcadian Accent which was provided by British actor Mike Mulloy, who also voiced Zug and Izzy Gomez.
In Salty's Lighthouse, he played the role as being a friend of Captain Star and was voiced by American actor French Tickner.
Voice Actors
Gallery