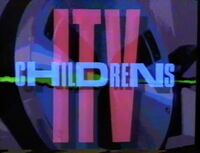 CITV (short for Children's ITV) is a British free-to-air children's television channel from ITV Digital Channels Ltd, a division of ITV plc.
Tugs was licensed by Television South and broadcast on Tuesday afternoons from 4 April 1989 to 27 June 1989 during the Stonewall era. Each broadcast was presented by Jerry Foulkes and Scally the Dog.
The four episodes, Sunshine, Pirate, Regatta and Munitions were cut down to 15 minutes in order to fit the time slot.
External Links