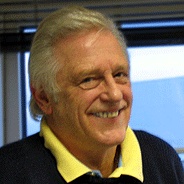 David Mitton (David Nelson Godfrey Mitton) (born in Edinburgh, Scotland, 13th July 1938 - died London, England, 28th May 2008) was the creator of the TUGS series.
He first began his career as a special effects technician for Gerry Anderson's Supermarionation shows such as Thunderbirds, Captain Scarlet and Joe 90.
Then he became friends with Robert D. Cardona, and they established their own company called Clearwater Features.
In 1984, Mitton began his work as director, writer and producer on Thomas The Tank Engine and Friends alongside Britt Allcroft.
Later in 1988, Mitton and Cardona decided to create a show about two tug fleets called the Star Tugs and the Z-Stacks, giving the series its name, TUGS.
David wrote six episodes of the series and directed nine of them.
When TUGS was cancelled and Clearwater Features closed down, he continued to direct Thomas The Tank Engine and Friends until his retirement in 2003.
In 2007, he and producer David Lane launched a company of their own called Pineapple Squared Entertainment Ltd, and were working on a CGI show called Adventures on Orsum Island.
Death
David Mitton died of a heart attack on 28th May 2008, at the age of 69. Many Thomas and TUGS fans were greatly saddened by this news. Adventures on Orsum Island was cancelled, and only a handful of clips exist.
Awards and nominations
Nominated - British Academy of Film and Television Arts - Best Animated Film for "Thomas The Tank Engine and Friends"

1985, shared with Britt Allcroft and Robert D. Cardona
1987, shared with Robert D. Cardona
Gallery
External links
Ad blocker interference detected!
Wikia is a free-to-use site that makes money from advertising. We have a modified experience for viewers using ad blockers

Wikia is not accessible if you've made further modifications. Remove the custom ad blocker rule(s) and the page will load as expected.