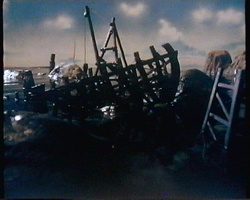 Dem Der Rocks (frequently misinterpreted as Dender Rocks) are a group of rocks guarded by Lillie Lightship. She makes sure all vessels can see them clearly with her light. In Regatta, Lillie was involved in a collision with a ship near these rocks, which pierced her side and let water into her controls, and her light went out. The tramp steamer was out of control and went straight into the rocks, it then sunk slowly into the sea. The area is also the home to red and white marker buoys, as seen in Jinxed.
Due in part to the pronunciation used in the show, the location was known as Dender Rocks for more than two decades until the proper name (likely intended as a localization of the phrase "Them There Rocks") was given in an interview done by the Star Tugs Trust.
Gallery
Ad blocker interference detected!
Wikia is a free-to-use site that makes money from advertising. We have a modified experience for viewers using ad blockers

Wikia is not accessible if you've made further modifications. Remove the custom ad blocker rule(s) and the page will load as expected.