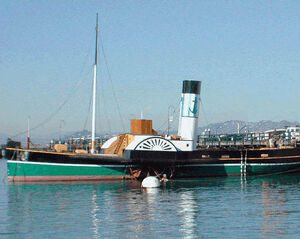 The Eppleton Hall is a paddle wheel tugboat built in England in 1914. This tug only remaining intact example of a river tyne paddle tug. She is one of only 2 surviving British-built paddle tugs (the other being John H. Amos), and is currently preserved at the San Francisco Maritime Historical National Park in California. O.J., the only paddle tug of the Star Fleet, is likely based on the Eppleton Hall.
History
Eppleton Hall was built in 1914 by Hepple & Co. of South Shields, for the Lambton & Hetton Collieries, Ltd, and named after the Lambton family ancestral home near Penshaw. A steam powered side wheeler with side-lever engines, she was designed to tow ocean-going coal-carrying ships to & from Tyne Dock, which served Newcastle upon Tyne. For sailing ships, this saved time, while for larger motor vessels it saved navigation & pilotage costs. She was also used to tow newly-built ships to the North Sea. She operated from 1914-46 by Hepple & Co., who post WWII were nationalised as part of the National Coal Board. Being rather old now, rather that being transferred to the British Transport Commission like many of the former collieries transportation assets, she was sold to France Fenwick, Wear & Tyne Ltd., which after refurbishment operated her on the River Wear until 1964. In 1952, the tug was modified slightly to obtain a passenger certificate, so that she could obtain, so that she could transport officials from newly-launched steamers, after the boats had completed their sea trials. In 1964 she was one of the last 3 steam tugs decommissioned in the River Tyne, sold from Sunderland Harbour Dock C. in November 1964. She was sold for scrap in 1967 to Clayton & Davie, while sitting on a mud bank in Duston as part of the scrap process fire destroyed her afterdeck and interior. This tugboat is no longer in service in San Francisco Harbour, but she is still existing as a landmark.
Preservation
The news of the fate of the last Tyne-Paddle-Tug reached Karl Kortum, then director of the San Francisco Maritime Museum. Kortum instructed associate Scott Newhall to proceed to the Scrap Yard & purchase the vessel, and then restore her for return to San Francisco. Restored at Bill Quay, Sunderland, from 1969-79 Eppleton Hall served as the Private Yacht of Kortum, modified for the trans-Atlantic Ocean journey to San Francisco via the Panama canal she passed through the Golden Gate Bridge in March, 1970. Newhall subsequently wrote the book "The Eppleton Hall", which tells the story of the discovery, restoration & journey from the Tyne to San Francisco of the ship (Howell North Books, Berkeley, CA, 1971). Donated by Kortum to the USA National Park Service in 1979, she's now berthed at Hyde Street Pier, San Francisco. She's presently being restored her condition post-War 1946, when refurbished for France Fenwick, Wear & Tyne Ltd.
Ad blocker interference detected!
Wikia is a free-to-use site that makes money from advertising. We have a modified experience for viewers using ad blockers

Wikia is not accessible if you've made further modifications. Remove the custom ad blocker rule(s) and the page will load as expected.