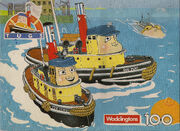 TUGS
Jigsaw Puzzles were released in 1989 by Waddingtons.
The puzzles have gained value recently and are worth a lot of money to serious collectors.
Designs
Trivia
The 20 piece puzzles are made from wood, whereas the 100 piece ones are made from card.
There were many designs, but unfortunately, not all have been found.
The 20 piece puzzles were aimed for kids aged 4+, whereas the 100 piece ones were aimed for kids aged 7+. 
Some of the 100 piece puzzles resemble a certain scene. For example, the puzzle with Ten Cents and Sunshine is based off of Pirate, and the Ten Cents, Big Mac and Grampus puzzle is based off the opening scene of Sunshine (The way Ten Cents and Big Mac are positioned resembles the scene). 
Gallery
Ad blocker interference detected!
Wikia is a free-to-use site that makes money from advertising. We have a modified experience for viewers using ad blockers

Wikia is not accessible if you've made further modifications. Remove the custom ad blocker rule(s) and the page will load as expected.