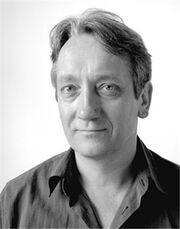 Lee Cornes is a British actor. He was one of the original cast for TUGS. In 1988, Lee auditioned for the part of Arnold Rimmer in the BBC sitcom "Red Dwarf"; even though he lost the part to Chris Barrie, he did appear as a one-off character in the fifth episode of the first series. He is the lead writer for Mr. Bean: the Animated Series.
He also has a YouTube channel, where he frequently uploads himself performing a comedy skit.
Voices
Acting Credits
Television
"The Further Adventures of Oliver Twist" (1980)
"Doctor Who" (1982)
"The Young Ones" (1984)
"Black-Adder II" (1986)
"Black-Adder the Third" (1987)
"Red Dwarf" (1988)
TUGS (1989)
"Black-Adder Goes Forth" (1989)
"Grange Hill" (1990-2002)
"Rab C. Nesbitt" (1990-3)
"Bottom" (1991-5)
"French and Saunders" (1993)
"The All New Alexei Sayle Show" (1994)
"Eleven Men Against Eleven" (1995)
"Jack and Jeremy's Real Lives" (1996)
"The Detectives" (1996-7)
"Loved by You" (1997)
"Like it or Lump it" (1997)
"Does China Exist?" (1997)
"Saturday Live" (1998)
"Adam's Family Tree" (1998)
"Hustle" (2005)
"Jam and Jerusalem" (2006)
"Teenage Kicks" (2008)
"After You've Gone" (2008)
"Bear Behaving Badly" (2009)
"My Family" (2010)
"PhoneShop" (2010)
Gallery
Ad blocker interference detected!
Wikia is a free-to-use site that makes money from advertising. We have a modified experience for viewers using ad blockers

Wikia is not accessible if you've made further modifications. Remove the custom ad blocker rule(s) and the page will load as expected.