Melon Produce Company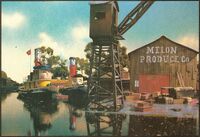 Melon Produce Company has a warehouse located in Bigg City Port. It only appears in High Tide where Ten Cents and Sunshine had the job to clean up after the dock was flooded.
Appearances
Gallery
Ad blocker interference detected!
Wikia is a free-to-use site that makes money from advertising. We have a modified experience for viewers using ad blockers

Wikia is not accessible if you've made further modifications. Remove the custom ad blocker rule(s) and the page will load as expected.