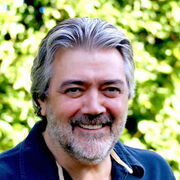 Mike O'Donnell (born on 10th March 1952) is a music composer for Tugs and Thomas & Friends, from its debut in 1984 to 2003.
Mike, a bass guitarist and vocalist, worked at the Beatles' "Apple Studios," where his love for music grew stronger after some memorable sessions with several famous singers. He also joined a band, "Gold," who, despite having few hits, sold a number of singles such as "Stay with Me My Love" and "Paradise."
At some point O'Donnell and Junior Campbell signed to the same publisher, and their partnership sparked. They have collaborated on writing television jingles, which continued even after leaving their bands.
The two have composed many Thomas & Friends theme songs like Thomas Anthem, Really Useful Engine, It's Great to be an Engine, Accidents Will Happen, Every Cloud has a Silver Lining and Down by the Docks.
Mike O'Donnell lives in Surrey with his wife Barbera, daughter Sian and son Ben.
In 2014, Mike O'Donnell released a draft version of the Tugs theme song, with his son Ben (when he was young) voicing the role of what is now Captain Star's in the opening theme. This draft can be found on Mike's YouTube channel.
Gallery