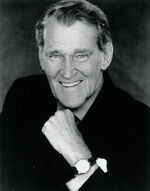 John Keith "Patrick" Allen
was born on 17th March 1927. He was a Malawian born British actor and voice actor. He was well-known for his distinctive voice. He voiced Captain Star as both narrator and character in
TUGS
. Outside TUGS, Allen provided narration for the intro for Vic Reeves' Big Night Out and also some scenes of The Smell Of Reeves and Mortimer, as well as the 'Protect and Survive' instructional adverts (made by the British government to prepare the public for possible nuclear war with the Soviet Union) in the late 1970s. Sadly, he died on 28th July 2006 in London, UK, aged 79. He was survived by his wife and two sons.
Voices
Gallery
External links
Ad blocker interference detected!
Wikia is a free-to-use site that makes money from advertising. We have a modified experience for viewers using ad blockers

Wikia is not accessible if you've made further modifications. Remove the custom ad blocker rule(s) and the page will load as expected.