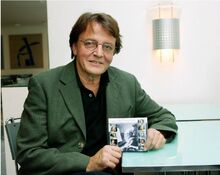 Pauli Virta (born November 21,1945 - December 21, 2011)) was a Finnish voice actor and singer who provided voices for the Finnish dub of Tugs. He was also the narrator.
Other Finnish dubbing credits include: Mr. Willmake in "Bertha", Skeletor in "He-Man", Postman Pat in "Postman Pat" (VHS Version), Grouchy Smurf in "The Smurfs" (VHS version), Matt in "Tractor Tom", "Dennis the Menace" "Pokémon", Leonard Weems in"Recess", Clockmaker in "Inspector Gadget" and many more.
Voices
Ad blocker interference detected!
Wikia is a free-to-use site that makes money from advertising. We have a modified experience for viewers using ad blockers

Wikia is not accessible if you've made further modifications. Remove the custom ad blocker rule(s) and the page will load as expected.