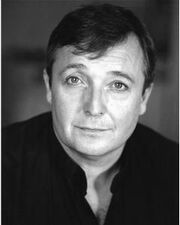 Shaun Prendergast, who was born in North Shields, Northumberland, England, UK, 1958, is a British actor, animator and writer. Prendergast has made hundreds of appearances in television, film and on radio and has written extensively for the stage, television, radio and film. He was also one of the original cast members for TUGS. He has recently and recuringly appeared as the Dame in the pantomimes at the Lyric Hammersmith in London.
Voices
Trivia
An interview with Shaun was hosted by The Star Tugs Company. (formerly known as The Star Tugs Trust)
Gallery
Ad blocker interference detected!
Wikia is a free-to-use site that makes money from advertising. We have a modified experience for viewers using ad blockers

Wikia is not accessible if you've made further modifications. Remove the custom ad blocker rule(s) and the page will load as expected.