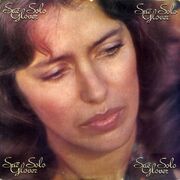 Yvonne "Sue Glover" Wheatman (b.1951, Mardas, India) is well-known for being in the vocal group made by her and her sister, Heather, 'Sue and Sunny'. There first record was called Just Let Me Cry, a cover version of
The girls went into the limelight when Joe Cocker's cover of The Beatles' song A Little Help For My Friends reached number one in the UK singles chart and have been with him on many TV shows such as ''Top With the Props' . Afterwards Sue Glover went on and made a solo album entitled, 'Solo in 1976. The two of them came back together in 1985 providing backing vocals for Vikki Watson's UK entry in the finals for Eurovision, 'Love Is..'
In TUGS, Sue recorded the ending song in Bigg Freeze.
Trivia
In an interview from Sodor Island Fansite (SiF), a Thomas the Tank Engine fan site, Mike O'Donnell, the composer, had said that the song at the end of Bigg Freeze was sung by her as the season finale. Their were talks to providing the theme song on record. Sadly, as the show never took off, the idea was faded away in oblivion. Mike has no idea if a 3 minute track was ever even recorded.
Voices
Ad blocker interference detected!
Wikia is a free-to-use site that makes money from advertising. We have a modified experience for viewers using ad blockers

Wikia is not accessible if you've made further modifications. Remove the custom ad blocker rule(s) and the page will load as expected.