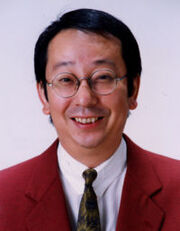 Sukekiyo Kameyama (born 9th November 1954-26th January 2013) was a Japanese voice actor who provided voices in the Japanese version of TUGS. He was best known for being the third voice to Winnie the Pooh after Shun Yashiro's death, Ankora from "Soreike! Anpanman", Raphael from the 1987 "Teenage Mutant Ninja Turtles" series, and Kryten in "Red Dwarf".
Sadly, he passed away on 26th January 2013 due to lymphoma.
Voices
Ad blocker interference detected!
Wikia is a free-to-use site that makes money from advertising. We have a modified experience for viewers using ad blockers

Wikia is not accessible if you've made further modifications. Remove the custom ad blocker rule(s) and the page will load as expected.