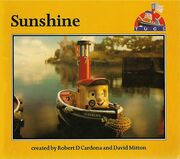 Sunshine is a book adaption based of the episode of the same name.
Foreword
In Bigg City Port there are two tugboat companies - The Star Fleet owned by Captain Star and the Z-Stacks owned by Captain Zero. The Stars are honest and hardworking, but their rivals, the Z-Stacks are not to be trusted and often cause trouble. In this story, Sunshine, an up river tug, comes to help Captain Star's team bring a huge liner, The Duchess, into port. But the Z Stacks, led by Zorran, are determined to spoil the Stars' big chance...
Charcters
Gallery
Ad blocker interference detected!
Wikia is a free-to-use site that makes money from advertising. We have a modified experience for viewers using ad blockers

Wikia is not accessible if you've made further modifications. Remove the custom ad blocker rule(s) and the page will load as expected.