"You know it never fails to amaze me. Every day, I see something new. Today, it's the sight of a floating sack of coal no less."
— Top Hat, High Tide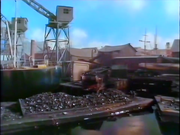 The Coal Yard is where Bigg City Port's coal supply is. Coal is essential to the industry as without it, the industry would grind to a halt.
In the episode High Winds, Zebedee takes one of the coal barges from here to Johnny Cuba.
Appearances
Gallery