"You know it never fails to amaze me. Every day, I see something new. Today, it's the sight of a floating sack of coal no less."
— Top Hat, High Tide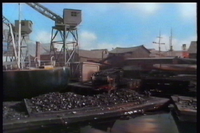 The Coal Yard
is where
Bigg City Port's
coal supply is. It makes an appearance in the episode High Winds, where
Zebedee
takes a coal
barge
to
Johnny Cuba
, which was from here. It appears again in the episode High Tide when 
Captain Star
discussed the importance of coal towards Bigg City's industry.
Appearances
Gallery
Ad blocker interference detected!
Wikia is a free-to-use site that makes money from advertising. We have a modified experience for viewers using ad blockers

Wikia is not accessible if you've made further modifications. Remove the custom ad blocker rule(s) and the page will load as expected.