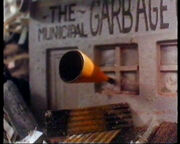 The Garbage Master is a character who only appears in the episode Regatta. He is in charge of The Municipal Garbage Corporation. He told Warrior that there was no garbage because of the festival. Instead, he decided to fill Lord Stinker with colourful garbage. He was voiced by Timothy Bateson.
Appearances
Gallery
Ad blocker interference detected!
Wikia is a free-to-use site that makes money from advertising. We have a modified experience for viewers using ad blockers

Wikia is not accessible if you've made further modifications. Remove the custom ad blocker rule(s) and the page will load as expected.