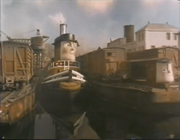 The Railway Dock is a dock owned by the Dock Railway in Bigg City Port.
Puffa and The Goods Engine move freight trucks onto Frank and Eddie for Top Hat to take away here. It is located near The Fire Dock.
Ad blocker interference detected!
Wikia is a free-to-use site that makes money from advertising. We have a modified experience for viewers using ad blockers

Wikia is not accessible if you've made further modifications. Remove the custom ad blocker rule(s) and the page will load as expected.