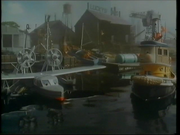 The Seaplane Hangar is next door to Lucky's Yard. This is where Sally Seaplane lives.
The Seaplane Hangar has only depicted one plane residing there, that of course being Sally. It makes its first appearance in the pilot episode Sunshine, where Ten Cents and Sunshine gave Sally Seaplane fuel. It makes numerous background appearances thoughout the series, such as in Jinxed.
Gallery
Ad blocker interference detected!
Wikia is a free-to-use site that makes money from advertising. We have a modified experience for viewers using ad blockers

Wikia is not accessible if you've made further modifications. Remove the custom ad blocker rule(s) and the page will load as expected.