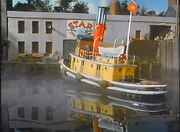 The Star Dock is located in Bigg City Port. It is the home for the members of the Star Fleet, a spacious area with the main office building upon the quayside.
Bio
A wood and brick jetty spans across the side, separating this area from the Zero Dock. The tugboats moor here on certain nights to sleep and memorise the days' events. Hercules however has never been seen docked here overnight, the reason supposedly because he is often out on long journeys, escorting ships and other vessels across the ocean, as of his role. Grampus, the midget submarine, is thought to have stayed here after he became a member of the Star Fleet, but most probably kept his original position outside the famous Bridge Café, as seen in the episode Pirate. The dock building itself has six windows, one of which leader of the Star Fleet, Captain Star communicates out of with the use of a white and blue striped megaphone. Warehouse doors and scattered goods suggests that there is also storage space within, as well as a smaller building located to the left of the quay. Upon the main dock, above large warehouse doors, is a sign reading 'STAR, TUG AND MARINE'.
Trivia
This is also the place where morning briefings are held, led by Captain Star, to give out his fleets duties and to summarise the day ahead. In the episode Quarantine, it was revealed that the briefing begins at 6:30.
Seen opposite the dock in the distance is Lucky's Yard, Bigg City Port's tugboat and water-machinery repair centre.
Both the Zero and Star docks are adjacent to each other, and are beneath the upward span of the road suspension bridge over Bigg City.
Gallery