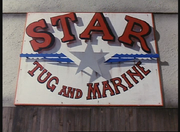 Star Tug and Marine (affectionately known as the Star Fleet) is a fleet of tugs who operate in Bigg City Port, and are the main protagonists of Tugs. They are based off the tugs of the San Francisco waters from the 1920s. Throughout the series, the Star Fleet's main rivals were Captain Zero's Z-Stacks.
Members
Former
Trivia
Top Hat and Grampus are the only Star Fleet members yet to be found.
Big Mac, O.J., Top Hat, and Grampus are the only Star Fleet members to retain their other face masks.
Zebedee helped the star tugs when they had trouble with the Princess Alice in High Winds. After that incident, Zebedee was offered a place in the star tugs company, but he refused.
Boomer was on trial, but after the schooner incident, he was turned into a houseboat.
Gallery