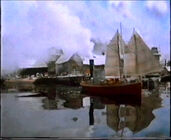 Several events in 
Tugs
take place up the river. A couple of notable events that have happened in this location are when
Zug
and
Zorran
'accidentally' blocked the river with an old tramper in
Trapped
, and when
Sunshine
was trapped in a log jam fire in
Up River
. The river is also where Sunshine lived before he came to
Bigg City Port
.
Sea Rogue
and
his uncle
lived there too before his uncle was held into ransom by the green-eyed
pirates
to make Sea Rogue steal barges. It is also the new home of
Boomer
, after he was made into a house boat and now lives in Dun Tuggin'.
Uptown
,
Mittsville
,
Top Town
and the
Munitions Factory
are all located here.
It is said that many of the planned episodes of the second series were to be set up river because it was easier to film there.
Ad blocker interference detected!
Wikia is a free-to-use site that makes money from advertising. We have a modified experience for viewers using ad blockers

Wikia is not accessible if you've made further modifications. Remove the custom ad blocker rule(s) and the page will load as expected.