This article is about the location. You may be looking for the episode.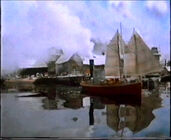 Several events in 
Tugs
take place up the river. A couple of notable events that have happened in this location are when
Zug
and
Zorran
'accidentally' blocked the river with an old tramper in
Trapped
, and when
Sunshine
was trapped in a log jam fire in
Up River
. The river is also where Sunshine lived before he came to
Bigg City Port
.
Sea Rogue
and
his uncle
lived there too before his uncle was held into ransom by
the Green-Eyed Pirates
to make Sea Rogue steal barges. It is also the new home of
Boomer
, after he was made into a house boat and now lives in
Dun Tugging
.
Uptown
,
Mittsville
,
Top Town
and
the Munitions Factory
are all located here.
It is said that many of the planned episodes of the 2nd series were to be set-up-river because it was easier to film there.